Job Opportunities for Recent Graduates: Survey & Statistics
Recruitment survey bring welcome news to recent graduates, especially those who may be struggling to find their ideal role.
Recently, we surveyed over 100 CEOs and Managers across small and large businesses, to find out what issues they faced when recruiting new staff.
The results showed that 69% of businesses struggle to some extend when recruiting and there is a wide range of reasons why.
While recruiters face challenges in filling empty roles, graduates face challenges in securing them.
In the UK alone, Higher Education Statistics Agency (HESA) 2015 data showed that almost 16,730 were out of work six months after leaving university and over 60,000 students were in "non-professional" roles, meaning they were overqualified for the work they were doing.
The results of the recruitment survey, however, show surprising opportunities for job-hunting graduates that may just address some of the biggest traditional hurdles to workplace entry:
Applicants Stand-out in an SME
According to the recruitment survey findings, students who target their application efforts towards SMEs stand a higher chance of having their CV read and considered.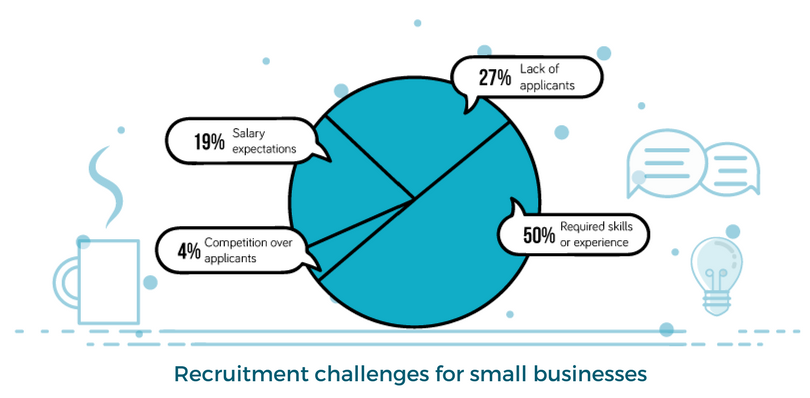 27% of SMEs cited "lack of applicants" as a key reason why they couldn't fill roles within their businesses, compared to just 16% of larger businesses.
That means a graduate CV could be sitting in a much-reduced competitive pile of applications at an SME. Securing such a role could also offer the opportunity to join a small team in a growing business and experience more areas of it than the traditional single specialist department in a big corporation.
This experience early on could help graduates find their personal passion and strengths more quickly.
Landing a Job Without Experience
The recruitment survey found that attracting job applicants with the rights skills is an issue for businesses big and small, with 44% of all businesses claiming it as their biggest challenge.
Obviously more well-known companies receive greater volumes of applications; however, they feel inundated with applicants who don't meet their requirements.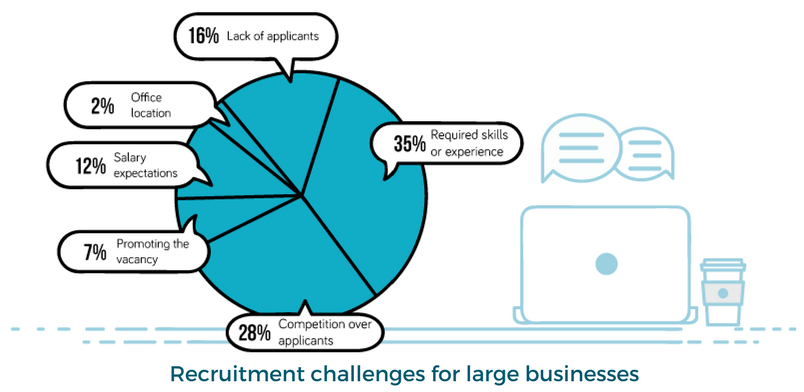 35% of big businesses stated that "lack of skills or experience" in applicants was a challenge in their recruitment.
It is no secret that the more real-world job experiences an applicant has, the more employable they become. A university degree – while often a requirement for many roles – doesn't take the place of relevant work experience.
Often graduates lacking in experience after years of study will find themselves either struggling to secure relevant interviews or doing work for which they are over-qualified.
With the aforementioned issues SMEs have in terms of attracting applicants, there is obviously a better chance of them considering hiring a less experienced graduate and training them for the role.
In fact, many businesses proactively seek grads as there are many advantages in doing so. The trouble for the grads is the sheer number of them. There's a supply and demand issue, especially when it comes to the more obviously places to apply.
In the recruitment survey, small businesses respondents confirmed that a lack of applicants and tighter budgets for salaries lowers the bar and makes them more open to developing their employees.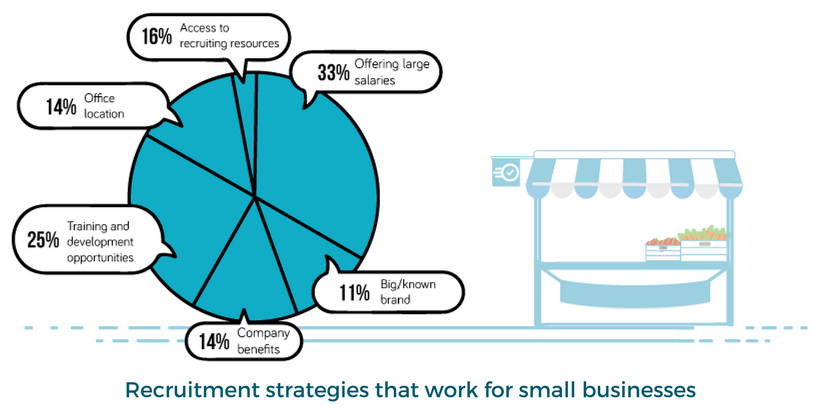 25% of small businesses cited an investment in training and development as the method they use to attract talent to their companies.
Taking advantage of this training and development could actually help graduates get a bigger leg up their chosen career ladder, more quickly, than those who enter traditional big-name businesses.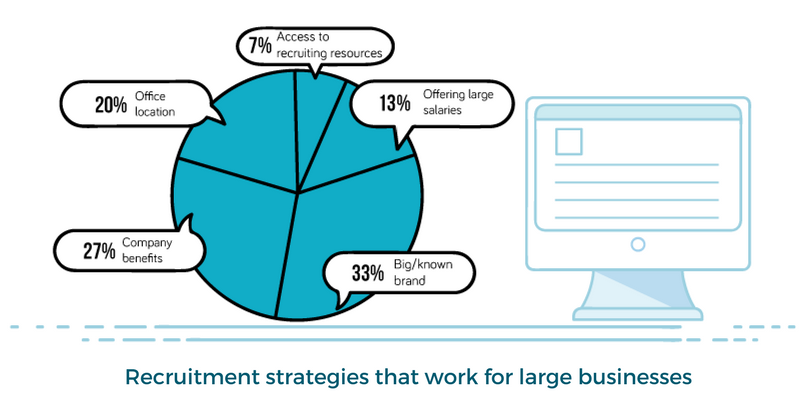 None of the respondents from larger business cited training and development as a recruitment strategy.
However, 33% said "being a big, known brand" was their greatest recruitment asset
Competitive Salaries
Another regular complaint amongst graduates – whether in work or job seeking – is that the salaries advertised for graduate roles are too low. The labour market data proves that it still does pay to get a degree at university (on average young graduates are more likely to be employed and are paid an average of £6,000 a year more than those with no degree).
However, it is equally true that graduate salaries haven't risen with inflation.
A young graduate in 2008 was typically earning around £24,000. In 2015 a young graduate was still typically earning £24,000.
The recruitment survey confirmed that some businesses both big and small (16%) did find salary expectations a challenge when they were recruiting.
But it would be untrue to assume low salaries of the SME sector only, as a significant proportion of SME respondents said they actually offered larger salaries in order to compete in the market and attract applicants.
33% of SMEs who responded to the survey said they offer larger salaries in order to be competitive in their industry.
The Future is Bright for Graduates
Every year a new batch of graduates will flood the job market, applying for all the easiest to find roles at the most well-known companies.
And with so many employers citing skills and experience as a recruitment issue, businesses know they have to look beyond qualifications to hire great staff.
In this competitive job market, the most successful graduate job hunters will be those seeking out their industry SMEs who are more likely to read CVs, have softer expectations in terms of experience, with many focussing on benefits like training and development to entice applicants and some offering rewarding salaries too.
Sending targeted applications to SMEs and demonstrating a clear desire to learn, develop and contribute, could be the key to graduate job success in 2017.
July 25, 2017
By Jerome Forde